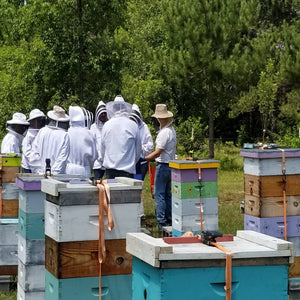 2023 Open Apiary Hours
Regular price
$0.00
$0.00
Unit price
per
Bee Wise Farms is a proud partner of the University of Nebraska-Lincoln's Great Plains Master Beekeeping Program (GPMB). Students participating in the GPMB program can participate in the below Open Apiary hours at no cost for on-ground training hours. GPMB students can also take each of their hands on field exams to move from Apprentice to Journeyman level, Journeyman to Master level, and to complete their Master beekeeping field exam.
Register for the GPMB program now at https://gpmb.unl.edu/
Beekeepers who are not registered for the GPMB can also participate in these events for $25/person.
Open Apiary Hours 2pm - 4pm
May 27, June 24, July 29, and August 26. Our open apiary hours are designed to allow individuals to come and see seasonal management over the course of the season. At each session we will be conducting comprehensive inspections of colonies and making seasonal management decisions to include: Health checks, mite monitoring, queen status, food reserves, mite treatments, feeding, etc. What to expect during open apiary hours: 
These are drop in classes - no registration required

Open apiary hours cost for non-GPMB students: $25/person, per session

Open Apiary hours are free for those who are registered for the Great Plains Master Beekeeping Course (GPMB).
---
Share this Product
---