• education • farming • hive management • honey bees
The Bee Wise Farms Beginning Beekeeper's Course is an on demand online course designed to take individuals new to beekeeping through an entire season of beekeeping specifically for those living in Northern Michigan and the Upper Peninsula. The course includes 16 online lectures that discuss the foundations of beekeeping, and 19 instructional videos designed to show you how to do specific tasks and management in the apiary. The course is on demand so as soon as you purchase the course we will send you the entire course for you to view at your pace. You can also revisit the materials as...
---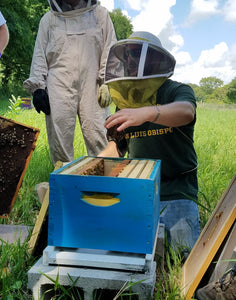 Bee Wise Farms is home to beekeeping expert and author, Dr. Adam Ingrao, who offers consulting for beekeepers at the farm, or he will travel to you to help you with your beekeeping issues ($0.63/mile with a 2 hour minimum consultation). Consultations rates follow:  Individual beekeepers (hobby scale 0-50 hives) = $50/hr Individual beekeepers (sideliner scale 51-300 hives) = $100/hr Individual beekeepers (commercial scale 301 - 10,000+) = $150/hr Nonprofits = $150/hr Educational Institutions/Federal/State/Local Agencies = $250/hr Corporate = $500/hr Consultation topics can be anything the client needs to support their beekeeping endeavor including but not limited to: Hive inspections...