From Patriot Missiles to Honeybees: My Path to Farming in Michigan
I am a fourth generation Army soldier. My great-grandfather served in WWI, grandfather served in WWII, father was Vietnam era, and I joined the Army in 2002 in direct response to the 9/11 attacks. Like my family before me, I knew I had a responsibility to serve my country in time of crisis and the moment I saw the first tower fall I was ready to give everything to ensure this horror never happened on our soil again. 

As a soldier, I served as Patriot Missile Fire Controller and was tasked with repairing and maintaining the radar system that controlled the surveillance and tracking capabilities of one of the most advanced air defense artillery systems on the planet. Life in the military was good and I planned on making it a career. However, life had a different plan and in 2004 I was medically discharged from the Army after suffering a career ending injury that occurred during a training accident. 

I had been trained in the Army that I could accomplish anything with my unit. No task too big or too crazy was ever characterized as insurmountable. But now, at 25, I returned home to my parents' house, broken, unable to walk, and trying to rectify in my head where all this went wrong. I was no longer the soldier I was trained to be, but rather a disabled vet sitting in VA waiting rooms and listening to vets two and three times my age recap their glory years in uniform. I was angry, confused, depressed and feeling a tremendous guilt for having to leave my unit. I felt I had become a shadow before I was ever really able to shine.

While rehabilitating I couldn't do much, but I could sit out in my parent's garden and pull weeds, and for weeks after returning home my mother's well-manicured flower beds became my conduit from which to explore all of the pain and frustration I was feeling. At first, I found my mind racing. Thinking about my friends in Iraq and wondering why I couldn't have been there with them. But, over the course of time working in the garden and with the soil I found these challenges of assimilating with civilian life becoming easier. My mind slowed and calm began to be something that was a normal part of life in the garden. It was here that I realized that working with plants and the natural cycles of the earth was helping me find my way back to life as a civilian. I began to see the healing capacity of working within nature and decided to pursue a career in agriculture.

Using my Post 9-11 GI Bill, I completed my BS in Agriculture and Environmental Plant Science at California Polytechnic State University in San Luis Obispo (Cal Poly). In 2013, I was recruited to MSU to complete my PhD and am currently a National Science Foundation Fellow in the Department of Entomology's Vegetable Entomology Lab. My research at MSU is focused on developing biological pest control strategies for the Michigan asparagus industry. 

While at Cal Poly, I took my first beekeeping class and helped manage a 30 hive bee yard and queen rearing operation on campus. My attraction to beekeeping was immediate, and the feeling I got from working in concert with hundreds of thousands of bees for the first time can only be described as a spiritual experience. I learned as beekeepers we care for our bees like children; feeding them, checking on them, and giving them the best chance for success we can. This care aspect of beekeeping can act as a profound shift for those who are trained in the art of war and destruction, and over time I began to realize that this work offered a path to personal wellness and career potential that resonates with many veterans. I have made it my goal in life to share this experience with other veterans who may benefit from this type of healing experience.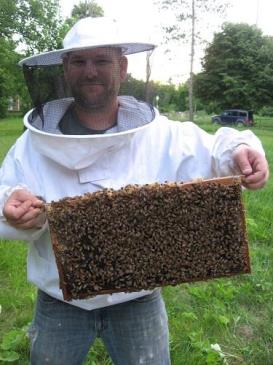 To help combat veterans identify beekeeping as a potential wellness and career path, my wife and I started Bee Wise Farms in Lansing, Michigan. We are a 1.5 acre urban farm on Lansing's eastside and are home to 14 bee colonies, vegetable gardens, a bearded iris garden and sensory garden. Our mission is to provide our community with food, wellness and education. Our primary focus is our Combat Vets Beekeeping Mentorship Program. 

We provide education, equipment and bees to our students as they work with us directly for nine months. They learn everything from planning and purchasing new colonies to harvesting honey and prepping bees for overwintering. This program includes weekly visits to the bee yard, monthly lectures, and a unique veteran-to-veteran education experience. 

The success of this program continues to grow and Bee Wise Farms is working with the Eisenhower Center to offer workshops this summer and fall to veterans interested in beekeeping at Eisenhower's Manchester campus. You can find out more about our programs and dates of upcoming events at www.beewisefarms.com or on our Facebook page. You can also email us at beewisefarms@gmail.com. 

Adam Ingrao is the co-owner and beekeeper at Bee Wise Farms LLC, and serves as executive director of Farmer Veteran Coalition of Michigan.